【投稿】 姫さん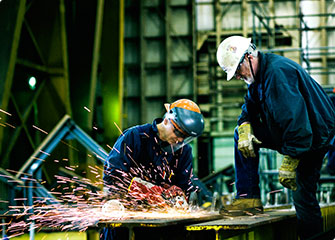 Welders – 65 positions

-Constructs, modifies and repairs a wide variety of metal parts using oxyacetylene, arc or
heliarc welding apparatus; assists in mechanical and structural repairs to equipment and
facilities.
-Weld metal components together in tight flat, vertical, or overhead positions
according to blueprints, work orders or layouts.
-Operate safety equipment and use safe
work habits.
-Lay out, position, align, and secure parts and assemblies prior to assembly,
using straightedges, combination squares, calipers, and rulers.
-Examine work for defects
and measure workpieces with straightedges or templates to ensure conformance with
specifications.
-Repair broken or cracked parts, fill holes and increase size of metal parts.
-Recognize, set up, and operate hand and power tools common to the welding trade, such
as shielded metal arc and gas metal arc welding equipment.


$23.46/hr, high school diploma, min. 6 months job experience. Temporary-Full- time.
Duration 8 months from October 1, 2017 to May 31, 2018, Mon-Fri, 7:30 a.m. to 4:00
p.m., in Lake Charles.

【URL】 http://www.skandahei.com